There is a lot to love about Hunter X merch when searching for a perfect Hunter gift for your loved ones. It would help to choose gifts that go with the occasion, and are both durable and functional at the same time.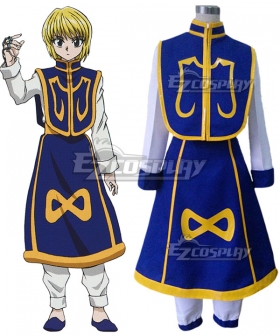 8 Hunter X Hunter Gift Ideas for Anime Lovers
Product Link : EZcosplay 
Hunter gifts can be as simple as a keychain, or as complicated as a complete Hunter X cosplay costume. Consider your budget and the reason for gifting as you shop for anime gifts.
Ready for the hunt? Let's Go-Go!
#1 Gon Killua Hunter x Hunter Anime Hoodie (Cozy Niceness)
Killua is one of the sharpest characters in the Hunter X Hunter anime series. He thinks on his feet and analyzes a situation fast and accurately. He has a strong, positive spirit and doesn't give up on life despite the initial setbacks he faces as a child. Killua is also a loyal friend and goes to such lengths for his loved ones.
A Gon Killua Hunter x Hunter Anime Hoodie is a perfect gift for anime lovers given the functionality it offers it's soft enough to provide the wearer with the comfort of a good hoodie, and warm enough to keep them cozy in cold weather. This unique unisex hooded sweatshirt is made from quality cotton and polyester material, and has a well designed Hunter X anime logo that provides a quick view of the wearer's love for the Hunter X Hunter T.V series.
Product Link : Amazon 
 #2 Hunter x Hunter Hisoka Vinyl Figure (Includes Compatible Pop Box Protector Case)
An anime Hunter X Hunter Hisoka figure is on the wish-list of many anime lovers. Hisoka loves himself to a fault, and is not afraid to serve himself first. He does what pleases him, and rarely cares for what other characters think about him. Gifting your loved one this bisky vinyl figure funko pop is akin to gifting them his spirit of self-love and living life free from the chains of self-doubt and dependence on other people's opinions.
This Hunter Hisoka Vinyl Figure is an appropriate gift for kids ( 14 years and above), and adult anime Hunter X collectors. The product comes with a compatible pop box protector to keep this vinyl figure and other additional items safe from damage.
Product Link : Amazon 
#3 Gon Freecss Backpack Bag ( Quality Canvas Anime Backpack)
A quality Anime Backpack will brighten a Hunter X lover's work or school day. Gon is a determined boy, who lives for adventure. He is easy to trust, and friends and enemies quickly take his side almost instantly. Your loved ones will embody these and other positive Gon character traits when you gift them this awesome anime backpack.
This Gon Freecss Backpack Bag is made using tough, waterproof canvas material guaranteed to protect your loved one's books and laptop, and to make it last long. It has adjustable shoulder straps, well constructed inside compartment for laptops and safe zipper closure your loved ones will love.
Product Link : Amazon 
#4 Killua Zoldyck Anime Skateboard (For Beginners and Professionals)
A Chibi Killua skateboard is a great gift for skater anime fans. A good anime skateboard will propel your loved one's dreams of becoming a professional skateboarder. It has a 20x80com deck, which offers ample space for the skater to manoeuvre as they pull awesome skate tricks. It comes with polyurethane wheels which make it reliable and long-lasting.
Shop for Killua Zoldyck Anime Skateboard that suits the gift recipient's shoe size, while caring about the board's weight and durability. It has an awesome Killua Zoldyck image and other Hunter X anime graphics on its surface which makes it all the more interesting.
Product Link : Amazon
#5 Chibi Gon Anime Hunter Keychain (Cute, Unique Keys)
Your loved one's bunch of keys will smile with this awesome silver anime keychain. It has a uniquely designed anime cartoon pendant made from a durable, environmental zinc alloy, and is comfortable to the hands.
Consider the gift recipient's keychain preference, their favorite anime characters, and the product's durability when as you shop for an anime keychain gift.
Product Link : Amazon 
#6 BoxLunch Hunter x Hunter Killua Skateboard Tie-Dye T-Shirt (Exclusive Anime T-shirt)
This cute anime t-shirt is a perfect gift for Hunter X anime lovers. The t-shirt is made from 100% cotton, which makes it durable and comfortable to wear. It has a well designed anime graphic image of Killua Zoldyck holding a skateboard that your loved ones will appreciate.
Shop for a BoxLunch Hunter x Hunter Killua Skateboard Tie-Dye T-Shirt that fits your loved one's body size and shape, and ensure to buy a shirt with the color they will love having. You can gift someone this Hunter Anime t-shirt with additional products like a Killua skateboard necklace or anime skateboard earrings, among other accessories.
Product Link : Amazon 
#7 Hunter X Hunter Anime Art Poster ( Beautiful Walls Are Made This!)
Anime art makes beautiful walls. The walls become even better when the poster has your loved one's favorite Hunter X characters. This 16X20 inch poster will make your loved one's walls happy, and is a bold statement of their love for this anime and manga series.
This Hunter X Hunter Anime Art Poster is printed on premium Epson luster paper, has permanent Killua Hunter graphics, and is easy to frame and mount.
Product Link : Amazon 
 #8 Hisoka 3D Hunter X LED Night Light (16 Colors)
A Hunter LED night light is an awesome gift idea for anime loving children especially if they fear sleeping in the dark. This 3D light creates the illusion of  Hisoka protecting your loved ones throughout the night. Led night lights are also perfect ways to give color to an otherwise dull darkness (sort of gives the night character).
This Hisoka 3D Hunter X LED Night Light will illuminate your loved one's room in sixteen different colors, and comes with a remote control to help them put the light on and off without having to leave their beds. The remote control function also helps users to determine the intensity and color of the lights.
Product Link : Amazon 
Let the Hunt Begin
There are numerous Hunter X gifts that your anime loving friends will appreciate, and this guide is just a quick view of the most popular gifts. It would help to buy gifts that match your loved one's lifestyle, hobbies and work requirements.
It would also help to shop for anime gifts when your favorite store is offering a discount if you are looking to get them at lower prices.