Image Credit: Billy Wong
Chant his name 3 times, and make one of the most fun costumes come to life with this DIY Beetlejuice costume guide.
Beetlejuice. Beetlejuice. Beetlejuice!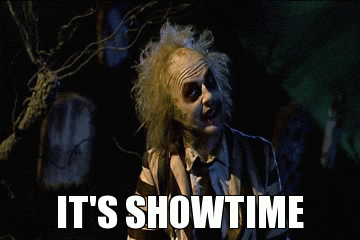 Now let's get down to business of making the most thrilling undead costume for your next cosplay convention or Halloween event.
Beetlejuice is a creepy looking character, but also has a ton of personality that makes him a fun character to bring to life (pun intended!) through cosplay. He wears a distinctive black and white striped suit (which is dirtied up as if he just rose from a grave) and has a wild and scraggly green hairdo. He is also known for his plaid complexion which makes him appear like some sort of undead clown.
This is a relatively easy costume to pull off with a stop at a vintage clothing store and a little makeup razzle dazzle.
In this guide, I will show you which items to get to complete your Beetlejuice costume and also provide some resources to get your makeup and hair looking right for this outfit.
Beetlejuice Costume Ideas
Last update on 2022-05-27 / Affiliate links / Images from Amazon Product Advertising API
How to Dress Like Beetlejuice
Hair:
Use a white wig to simulate this character's hair, then dye it green to create green and white highlights on the wig. Cut it to make it look as messy as possible and make sure you have a bit of a balding effect in the front. When applying the wig, use a fixative to keep the hair stretched like Beetlejuice.
Makeup:
To get the right look for Beetlejuice's makeup you need a white base like a mime or a clown. You can mix petroleum jelly, wheat flour or baby powder to create a white mixture that will spread very well on your skin.
1. The first step is to hide your eyebrows. Use plenty of foundation to cover your eyebrows.
2. Apply the white base to your face, neck, and chest. You don't need to seal this white paint with powder, but you can if you'd like to.
3. Paint around your eyes with a purple or black eye shadow. Mix the eye shadow with makeup base to create the eye shape. To intensify the color, seal with the shadow. You can also use body paint and black or purple lipstick.
4. Mix green paint with water to dilute it and paint on a bit of Beetlejuice's "rotting" color around your face.
5. To create the dirty look, use charcoal. Dirty your hands with the charcoal and rub it on the neck, cheeks, and chin.
Beetlejuice Makeup Tutorial:
Shirt:
Grab a white or red long-sleeved shirt. You can find these online or at your local vintage clothing store.
Suit:
You have 3 options: The first is to use a striped suit if you have one. Second, you can use any suit you have in the closet and use white or black tape to create the stripes, and lastly you can use a torn and old jacket.
Trousers:
Use the pants of the suit you have in the closet or use torn pants and dirtying it with earth or coal to create the appearance of a dead man who was underground.
Necktie or Bowtie:
Beetlejuice wears a black tie, but any will do. Just try to keep it a solid color.
Socks:
If you have long socks, use them and dirty them up with a little charcoal.
Shoes:
You can wear either black or white dress shoes to complete the Beetlejuice look.
About Beetlejuice
This unusual character is the brainchild of film director Tim Burton, who brought him to the big screen in 1988 with the help of Michael Keaton. The film grossed $78 million in the United States.
Beetlejuice is a ghost characterized by his dark humor and who wanders in the non-living world, that is to say in the world of the living according to the perspective of the dead, for which he is in charge of making bad jokes to the living who are not of your liking.
He is in charge of scaring a family that moves into the house of a deceased couple and in which they do not want the presence of the living in their home, so they hire the rude, dirty and ill-educated Beetlejuice to scare the living.