Johnny Cage: DIY Cosplay Guide
Johnny Cage is a washed up action movie star turned deadly tournament fighter in the Mortal Kombat video game series. Throughout the series and in the live-action film of the same name, Johnny Cage is depicted as your standard action star of the 1990s era. In fact, he was modeled after Jean-Claude Van Damme's character in the movie Bloodsport…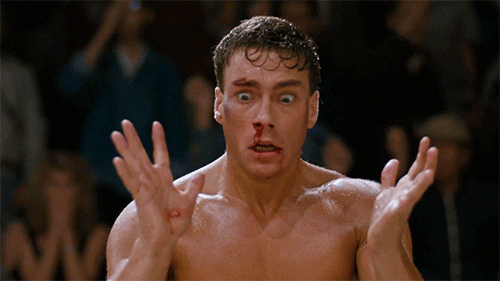 In the original Mortal Kombat game Cage wears an outfit consisting of black shorts with a red sash and black shoes. By the second entry in the series, Cage updates his look to include black pants with a blue sash, blue shin guards and white shoes. Along the way, Cage adds to his ensemble a belt with his last name emblazoned in gold and other 90s era accessories.
Learn how to make your own DIY Johnny Cage costume below.
How to Dress Like Johnny Cage from 'Mortal Kombat'
No products found.
Cosplay Examples
About Johnny Cage
In the Mortal Kombat series, Johnny Cage is a has-been action movie star who enters the Mortal Kombat tournament in order to prove himself to skeptical film critics and audiences that he was a legitimate fighter and not just another actor with a pretty face.
While Cage is seen as a bit of an arrogant airhead, his skills as a fighter cannot be questioned. He is a master of numerous martial arts and possesses superhuman powers as a result of his lineage from a Mediterranean cult in which warriors were bred for the gods. He has mastered a series of devastating moves, such as the shadow kick and uppercut. As with other MK fighters, when Cage gets his opponent out he caps it off with a repulsive finishing move. One of Johnny's favorites is a decapitating uppercut which he calls a 'head pop'… How quaint!
Quotes:
You got Caged!
Appears In:
Last update on 2021-09-08 / Affiliate links / Images from Amazon Product Advertising API
Johnny Cage in Action